First Things to Do With a New Laptop.
Adsense

First Things to Do With a New Laptop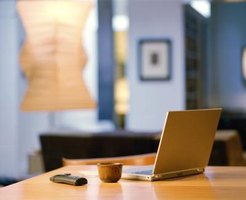 Before you begin using your new laptop, take some time to perform a few housekeeping tasks that will not only keep your laptop safe, but ensure that you can get the most out of your investment. With a bit of ingenuity, you may be able to complete all tasks without any additional financial investment.
Download or Activate Antivirus Software
The first thing you'll want to do after powering on your new laptop is make sure that you download or activate antivirus software. Threats exist the moment your computer is connected to the Internet and the last thing you want is for your brand new device to be infected with a virus. If your Internet Service Provider is through Comcast, Time Warner Cable or any other major provider, you may be able to download this software at no additional cost. Many laptops come pre-loaded with antivirus software, but this may only be for a trial period. Your other option is to visit a trusted site, like CNET Download.com, where you can select from many expert-reviewed antivirus software programs that are free for you to download.
Check for Updates
On a Windows PC, you can easily check for updates by clicking on the Start menu and typing "Windows Update" into the Search field that appears. You can then run all applicable updates for your device to make sure it is not vulnerable to any security threats. It may also be a good idea to connect any devices to your laptop which you may be using in future. This will allow your laptop to fetch the drivers for any devices that you will be connecting to it later.
Load the Files and Programs You Need
Take a moment to transfer or download all files, documents and programs onto your new laptop that you may need for future use. Doing this up front will ensure your laptop is ready for use at a moment's notice and will alert you to any potential problems such as licensing or incompatibility issues. It may also be wise to take some time to review the pre-loaded software programs that come with your laptop so that you don't end up downloading programs that duplicate functionality. This is also a great time to remove any unwanted pre-loaded applications that take up extra space and bog down your computer's performance.
Consider a Backup Resource
It's wise to look at ways to back up your files and programs on your new laptop in the event it crashes or fails within the first few months of use. While a manufacturer's warranty may get you a replacement unit and a Windows backup may help you restore your computer to an earlier period, this won't help you if your laptop is rendered unusable due to a complete failure. You can use a physical hard drive device to backup files or free cloud-based software to store your data remotely in preparation for such an event.